The wind turbine in Jubilee Gardens is due to be dismantled next week following the early close of the Shell Electric Storm.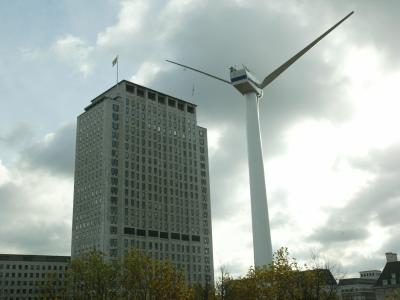 Due to unforeseen technical issues the Electric Storm was turned off several weeks early. The difficulties are understood to include the mist which many considered to be too wet and unpleasant for walkers on the South Bank.
The project, involving lighting up the riverside trees, was launched in November with a champagne reception attended by Trade Secretary Patricia Hewitt.
Music, light and mist constantly changed as the Storm reacted to prevailing weather conditions. The nature of the 'storm' varied each evening.
Shell's UK chairman Clive Mather said that the project demonstrated the power that comes from just one
wind turbine.
The special projections on the Shell Centre failed to materialise after the opening night. There had been plans for a final St Valentine's Night projection as the Shell Electric Storm closed.