Borough Market has been voted 'The Best Market in the Country' at the first ever Observer Food Monthly awards.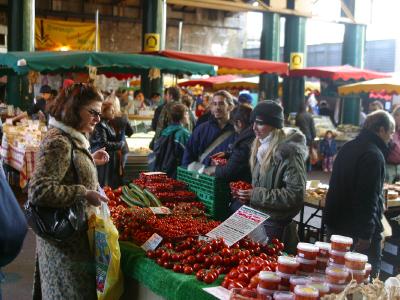 Photo: Ian Macauley
The awards, run by the Observer's monthly food magazine, are aimed at celebrating excellence in all aspects of the food and drink industry.
Chairman of the Trustees of Borough Market Mr George Nicholson, accepting the prize on behalf of everyone at the Market, said: "We are delighted to receive this award. We see it as reward for five years hard work from Trustees and Traders alike. By combining London's oldest fruit and vegetable market with one of its newest retail food markets at Borough we believe we have created a unique place, one that is going to get even better for food lovers with the first phase of refurbishment now nearing completion.
"Our aim is to put people back in touch with the producer, to introduce them to an amazing range of quality food from the UK and abroad and also to help re-build rural economies, something we can already witness in Cumbria and elsewhere. Many other city markets across the country could learn from what we and other markets named in this award have achieved."
Borough Market fought off competition from markets across the country to take the prize, including runners-ups Corn Street Farmers Market in Bristol and St. George's Market in Belfast.
The winners were selected by readers of the Observer Food Monthly and a celebrity judging panel which included Gordon Ramsay, Nigel Slater, Ruth Rogers and Hugh Fearnley-Whittingstall.
Last year Borough Market won a Visit London award when Londoners voted the Market their favourite 'Totally London' experience.
• Borough Market has been located on its current site by London Bridge since 1854 but its retail market has only been in operation since 1999. Every Friday and Saturday around 70 stalls and stands sell a wide-range of high quality food produce from across the country and abroad.