More than 80 per cent of respondents to a London SE1 website poll say that the year-old Congestion Charge has improved quality of life in SE1.

Blackfriars Road at 4pm on the first day of the charge
Transport for London says that 60,000 fewer cars now come into central London on weekdays. The AA's figures show that traffic volumes inside the zone were down 16 per cent year on year, against an anticipated 10 per cent fall.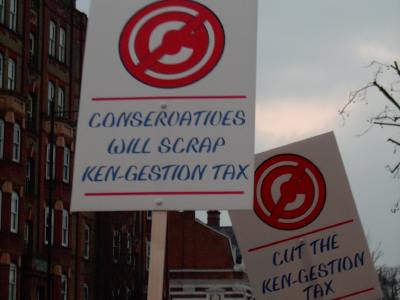 Bromley Conservatives demonstrating in St George's Road on 17 February 2003
Despite protests from retailers who claim that the charge has been bad for business, a study carried out on behalf of lobbying group London First shows 72 per cent of companies believe that the charge is working, with 14 per cent branding it a failure.
•
How we reported day one of the charge on 17 February 2003