Cutting edge new laboratories for researching infectious diseases such as HIV, Aids, malaria and diabetes have been opened by Archbishop Desmond Tutu at King's College London's Guy's campus.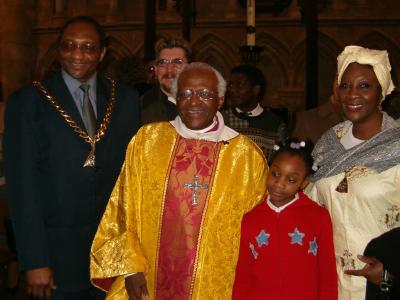 Archbishop Tutu with the Mayor of Southwark Cllr Columba Blango at Southwark Cathedral earlier this month
The £7 million refurbishment of the Infection and Immunity Laboratories is part of a £400 million redevelopment of the College's estate – the largest undertaken by any university in the country.
The team is investigating the genetic basis of disease susceptibility and resistance, undertaking research in several areas into the interplay between the body's response mechanisms and the challenges presented by viruses, bacteria, fungi and parasites.
New statistics announced show thelevels of HIV infection soaring to record levels in the UK, but this is just a drop in the ocean compared to the crisis devastating Africa, about which the Archbishop is an astute commentator.
Archbishop Tutu is currently at King's College London as a Visiting Professor in Post-Conflict Societies. He was the president and preacher at Southwark Cathedral's Choral Eucharist earlier this month.
• This month Archbishop Tutu is to give the keynote speech to EU ministers on the HIV crisis at the Ministerial Conference in Dublin.