The Queen and Prince Philip have joined in the Royal Watercolour Society's bicentenary celebrations at Bankside Gallery.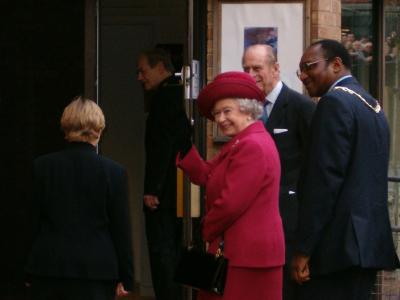 Bankside Gallery">
The Queen and Duke of Edinburgh entering the gallery with the Mayor of Southwark, Cllr Columba Blango
The Queen, who is RWS patron, was greeted first in
Hopton Street
by the Mayor on behalf of Southwark. RWS President Trevor Frankland welcomed Her Majesty and His Royal Highness to the
Bankside Gallery
.
Around 40 Society members were present, including Michael Chaplin of Channel 4's Watercolour Challenge and William Bowyer RA, whose work has been purchased by the Prince of Wales .

Bankside Gallery">
The Queen and Duke meet 10-year-old Malcolm Akinsola and Gemma Gordon, aged 9, as they leave the gallery. Malcolm and Gemma presented a book and bouquet of flowers respectively
The Royal visitors toured the current Then & Now exhibition, the first of a series of anniversary shows. For this exhibition members have selected a work from the RWS's historic Diploma Collection and painted a response in their own style.
The RWS was founded in response to the Royal Academy's habit of hanging watercolours only in dark corners at its prestigious exhibitions. Past members include Edward Burne-Jones and among visitors to the 1813 spring show was Jane Austen.
The first Royal Patron was Queen Victoria and at Bankside her great great great granddaughter was presented with a copy of the just published RWS history The Enchanted River by Simon Fenwick.
Several hundred people were outside to welcome the Queen and Duke. One was Charles Vigar who lives in Falcon Point above the gallery and remembers the Queen's visit to the gallery in 1980.
• The Bankside Gallery's Then & Now exhibition continues daily except Mondays until Sunday 7 March Sunday; admission free.
• The Enchanted River by Simon Fenwick (Sansom £29.95) is available from the gallery shop.