Bankside Pier is to be linked to Greenwich by an extension of the Thames Clippers passenger boat service.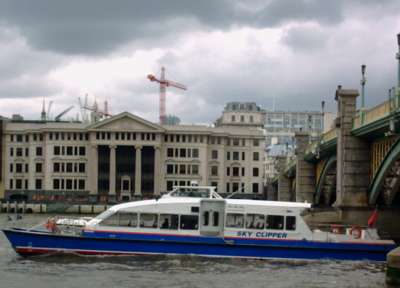 Starting from Monday 5 April a six month trial will operate Monday to Friday during the morning and evening peaks. Starting at Greenwich Pier and calling at Masthouse Terrace (Isles of Dogs), Greenland Pier (Surrey Quays), Canary Wharf, St. Katharine Docks, London Bridge, Bankside and Blackfriars before finishing at the Savoy Pier on the Embankment (close to Cleopatra's Needle). The first morning Westbound service will leave Greenwich Pier at 6.35am and the last evening service from Savoy Pier will be at 6.22pm to Greenwich.
The trial is in response to public demand to add a river commuter stop at the newly refurbished Greenwich Pier. Sean Collins, Managing Director of Thames Clippers, said:
"We are pleased to be able to extend our service to commuters in Greenwich. By working together with London River Services we hope it will prove to be a great success".
Ticket prices start at £3.25 and other commuter passes are available including a three month version. Prices and timetables will be available soon on the Thames Clippers website.
Alan Woods, Chairman of Thames Clippers and a Greenwich resident said: "Having lived in Greenwich and Blackheath for the past 30 years, I am delighted our ground breaking commuter service has been granted a license to run from Greenwich – this new route is a fantastic way to mark 5 years of excellent service to Londoners. I can now easily travel to our east London office pier and spend the whole day afloat!"
The future of the main Thames Clippers service, which operates seven days a week between Victoria Embankment and the Isle of Dogs, was assured last year when a subsidy package was agreed by Mayor Ken Livingstone.
The company's flagship vessel Hurricane Clipper also operates the Tate to Tate service, launched last year to link Tate Modern and Tate Britain via the London Eye.