Mary McCartney Donald curates this exhibition, which is compiled of images from over sixty photographers, including Tracey Emin, Mario Testino and Betty Jackson.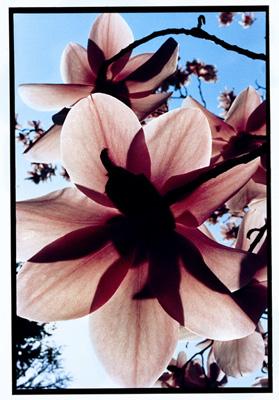 Mary McCartney Donald: Giant Magnolias, 2003
The photos are displayed on behalf of Sight Savers International, a charity that Mary has supported since attending a function hosted by Cherie Blair last year. The exhibition deals with sight, not only in that it is photographic, but it also focuses on many seeing-impaired subjects. These subjects range from infected children living in third-world environments to celebrities such as musician Stevie Wonder.

Linda McCartney: Out Here, California, 1975
Mary has included one of her own photos, her "treasured image" of magnolia blossoms on a spring day in Scotland. She is not, however, the only McCartney name associated with the exhibition, with images donated by her father Paul, sister Stella, and mum Linda. The curator comments on Linda's photograph that it shows her mother's "ability to recognise and capture a fleeting moment." Other celebrities included in the photographers list are actress Gwyneth Paltrow and musician Annie Lennox.
• CLICK continues daily at the.gallery@oxo at Oxo Tower Wharf, open11am-6pm until Sunday 4 April. Admission is free.