Two London Red Cross volunteers unveiled a giant poster for Red Cross Week at the London Eye on Friday.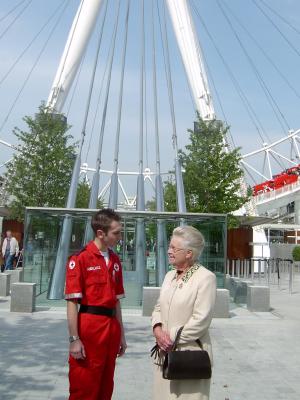 Spanning generations of care for people across London, Joan and Adam talked about their work and the relevance of Red Cross to Londoners.
Joan, 85, is still an active supporter of British Red Cross but her volunteering days go back to the 1930s when she was a VAD member caring to wounded soldiers at the time of Dunkirk. Joan's lifetime with the Red Cross include being Chairman of South East London Red Cross – co-ordinating and overseeing help and care for thousands of families across some of the most deprived boroughs in London. Today Joan is as active as when she first joined Red Cross – tirelessly raising money for those less fortunate.
Joan said: 'I have given my life to Red Cross, but Red Cross has given me more – it has given me joy and friendship.'
Adam Hunter (21) also gives his time tirelessly to Red Cross. One of the charity's youngest First Aid volunteers in London, he gives up his own time to attend events and emergencies across the capital. He has already completed several years with the charity and takes his duties in his stride – whether that's bandaging grazes at the Rotherhithe festival or doing resuscitation at an emergency.
"Joan and Adam really are our Red Cross heroes – then and now" says
Liz Page, local director at Red Cross. "There are countless other volunteers who give up their time to help vulnerable people across London – day-in, day-out. During Red Cross Week we're asking people to support us in whatever way they can."
Chairman of the London Eye Rick Wills said: 'We are committed to supporting organisations in our local community to raise awareness for the invaluable work they do. We are delighted to play host to the launch of the Red Cross' awareness week and wish them a very successful campaign."