London's inclusion on the shortlist to host the 2012 Olympic Games was celebrated on Tuesday night with a party at the London Eye and a fireworks display to unveil the new London 2012 logo.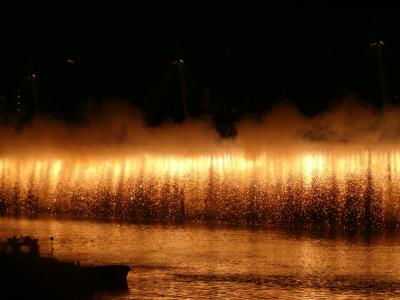 Wall of fire against Hungerford Bridge

The Olympic rings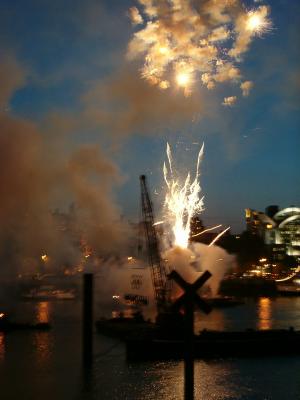 Early arrivals for the party on Waterloo Millennium Pier

Tight security as fireworks are prepared
London 2012 chairman Barbara Cassani flew back from Lausanne – where the shortlist was announced at lunchtime – to join the festivities on the South Bank.

Lord Coe is interviewed live on the ITV News Channel
British athletes past and present joining the celebrations included Lord Coe and Sharron Davies. Sir Ian McKellen gave a speech.
Now that London is on the shortlist the London 2012 bid team are able to use the famous Olympic rings logo as part of their marketing campaign. A revised logo was unveiled to replace the interim logo launched at Tate Modern in November 2003.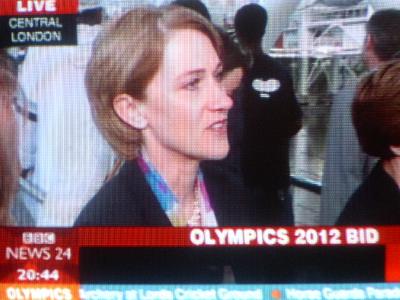 Barbara Cassani live on BBC News 24 at the London Eye
It was announced last week that the British Airways
London Eye
is a "champion partner" for the London 2012 bid, which means that the loss-making South Bank attraction has donated between £150,000 and £500,000.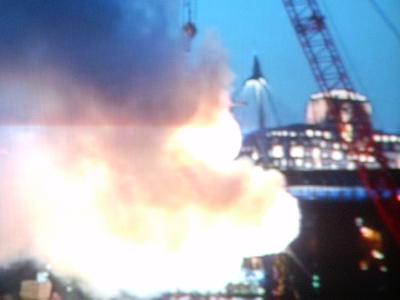 The logo is unveiled