A new southbound bus stop is to be installed in Borough High Street opposite the Slug and Lettuce pub.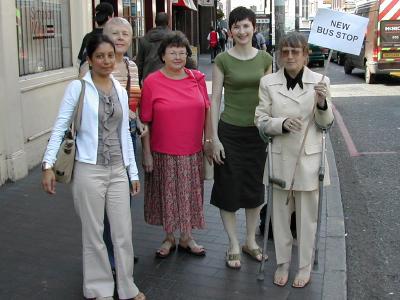 Cllr Caroline Pidgeon (second from right) with local residents at the site of the new bus stop
For over a year bus stop H on Borough High Street – the only stop between London Bridge and Borough tube station – has been temporarily moved further down Borough High Street, close to John Harvard Library. This was due to junction improvement works at Union Street which would have caused buses to block the junction, endangering pedestrians and causing an obstacle to traffic.
However for passengers coming out of London Bridge station wanting to catch a bus south to the Elephant, Camberwell or Peckham, it has been a real inconvenience and a very long walk – especially in bad weather.
Following consultation linked to changes to the 133 bus route, Transport for London has agreed to install a new additional southbound bus stop outside 101 Borough High Street – opposite the Slug and Lettuce pub. This stop will be very close to the exit from the Jubilee line at London Bridge. In addition, the temporary bus stop H location near the library will become a permanent location.
Liberal Democrat London Assembly candidate for Lambeth and Southwark Cllr Caroline Pidgeon has welcomed the plans: "This is great news for local residents and commuters. For many years there has been a desperate need for better located bus stops on Borough High Street and in particular near the tube and trains. I am delighted that TfL has listened to local residents and will introduce an additional stop."
Other proposals in the consultation for extending the red route controls and Northbound bus lane on Borough High Street were rejected by residents and will not go ahead.