This Friday's Critical Mass will be stopping traffic on Blackfriars Bridge - where cyclist Vicki McCreery died earlier this month - in remembrance of all cyclists killed on London's roads.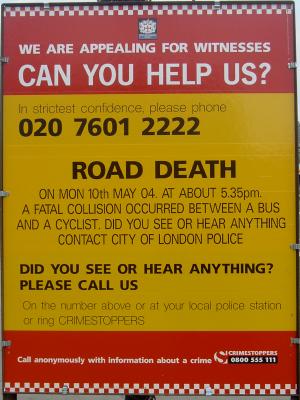 Critical Mass – described as "a celebration of human powered transport" – meets on the last Friday of each month just after 6pm by the National Film Theatre, under the south side of
Waterloo Bridge
.
The controversial monthly ride, which attracts the ire of motorists held up during the Friday rush hour – is celebrating its tenth anniversary this year.
This Friday's ride will be the second Central London Critical Mass this year dedicated to a cyclist killed on London's bridges.
The riders are expected to reach Blackfriars Bridge some time after 7pm.
37-year-old Vicki McCreary, a senior physiotherapist at St Thomas' Hospital on the South Bank, was killed when her bike was in collision with a single-decker bus on the northbound carriageway Blackfriars Bridge earlier this month.
15 months ago cyclist Kim Thi was killed in an accident on the same part of the bridge. But that was before the current cycle lane – sandwiched between the bus lane and the main traffic – was painted onto the road surface.
According to an article in Sunday's Observer, McCreery had predicted that the new road layout would become a death trap.
A fierce debate about the safety of the cycle lane on Blackfriars Bridge – and the safety of cycling in London generally – has raged on the London SE1 forum.