The long-awaited first night of Aladdin at Waterloo's Old Vic Theatre - starring Sir Ian McKellan and Maureen Lipman - was cancelled on Friday night due to technical problems.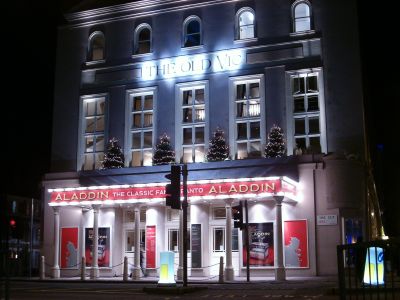 The Old Vic on Friday night
"It has been cancelled because of technical difficulties," said marketing director Vivien Wallace. "The show will be going on tomorrow."
She added: "People will be able to get refunds or will be booked into other performances where we can.


Maureen Lipman – Dim Sum in the panto – switching on the Waterloo Christmas lights earlier this month
"We are very sorry about this – it was not a decision done lightly" she told PA News.
A statement from the Old Vic explained that the show has complicated staging, and Friday's dress rehearsal threw up a number of technical problems which had to be addressed and could not be resolved before that evening's performance.


Sir Ian McKellan, who plays Widow Twankey, on Tower Bridge with the Olympic flame in June 2004.
"We very much regret that people will be hugely disappointed, children in particular" said producer David Liddiment.
Speaking at the switching-on ceremony for Waterloo's Christmas lights, Maureen Lipman told the crowds that she hoped that everyone would enjoy the show more than the cast were enjoying the rehearsals.