Simon Hughes today raised the issue of post office closures in the House of Commons at Prime Minister's Questions, 10 days after the closure of the Abbey Street branch.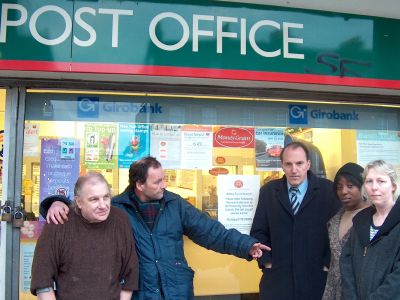 Ted Maxwell (left) and Simon Hughes with local residents outside the Abbey Street Post Office on the day of its closure
"Will the Prime Minister accept that whatever pre-election goodies the Chancellor may have in his budget, they will be too late for people like Ted Maxwell from Bermondsey, who is a disabled pensioner,
whose local post office closed two weeks ago
?" Mr Hughes asked the PM.
He continued: "Is not it right that as a direct result of the Government's policy, more than 2,000 post offices have closed, and that if Labour is returned to office thousands of people will never have a local post office again?"
Mr Blair replied: "I do not accept that. The reason for the closures, as the hon. Gentleman knows, is the reduced amount of business because increasing numbers of people have the money paid into their bank accounts. However, we do try to make provision for those who do not want that to happen. I am sorry about the particular circumstances of the honourable gentleman's constituent; on the other hand, I am sure that he would realise, and so would other pensioners in the country, that there has been an enormous amount of money put into pensioner support over the past few years: the winter fuel allowance, the TV licences for the over-75s, the above-inflation increases in the basic state pension and the pension credit. Indeed, I may say to the honourable gentleman that we are putting far more money into support for pensioners than was ever asked for by the Liberal Democrats in either 1997 or 2001."
Speaking to the London SE1 website on the post office's final day, Mr Maxwell said that the closure was "disgusting". "After all these years ... [Abbey Street] has always had a post office. He was concerned that the lengthened queues outside the nearby offices would be dangerous. Mr Maxwell also praised the branch's staff for helping elderly customers with forms and complicated transactions.
Speaking after PMQs, Mr Hughes added: 'ÄúLiberal Democrats have not supported this post office closure programme nationally, across London or in Southwark.† There are other ways of organising services other than closing post offices.
"The local sub-post office is an important community asset, particularly for families with young children, people on pensions or benefits and people with disabilities.
"We have not given up the fight to get a new sub-post office in Bermondsey to replace the two which government policy has recently closed."