Abbey Street Post Office closed for the last time on Monday evening, just a fortnight after the closure of the Bermondsey Street office.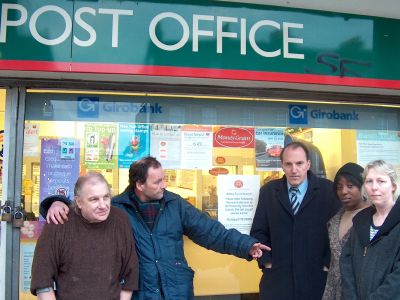 Simon Hughes with local residents outside the Abbey Street Post Office
"It's a disgrace," said local resident Jane O'Sullivan. "There are too elderly people on the estates who will struggle to get elsewhere." Posters direct customers to alternative offices at Dockhead, Jamaica Road and Old Kent Road.
Another regular customer at the Abbey Street office, Mr Maxwell, said that the closure was "disgusting". "After all these years ... [Abbey Street] has always had a post office. He was concerned that the lengthened queues outside the nearby offices would be dangerous. Mr Maxwell also praised the branch's staff for helping elderly customers with forms and complicated transactions.
North Southwark and Bermondsey MP
Simon Hughes
visited the office to show his solidarity with Post Office staff and local residents. He told the London SE1 website: "These two closures are really unfair on the local community, and especially unfair on the elderly, residents with children and people with disabilities."
"We haven't given up the fight for a Post Office to stay in this area and won't give up. I will also be watching very closely to see how the three Post Offices round here cope with the extra demand they will now have to take."
The closures of the Abbey Street and Bermondsey Street Post Offices have gone ahead despite a campaign by local residents and politicians.
• Simon Hughes is still keen to receive reports of problems with the local postal services from local residents and businesses, either directly or via the London SE1 Forum.