The Millennium Flame arrived by boat at Bankside Pier on Saturday morning and was carried in procession to Southwark Cathedral where it will be kept for a year and a day.

The flame is received at Bankside Pier
The charity
Friends of the Elderly
, which is celebrating its centenary, is the official keeper of the Millennium Flame for the next year.

Mayor of Southwark Anne Yates and town crier Peter Moore with the flame
The charity has entrusted the flame to
Southwark Cathedral
which is also celebrating the centenary of the creation of the Diocese of Southwark this year.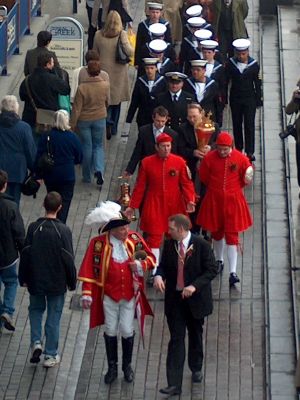 The flame is carried in procession along Bankside
The flame, which was used by the Queen to
light the national beacon in the Pool of London
on the eve of the new millennium, will be based at the cathedral until 2006.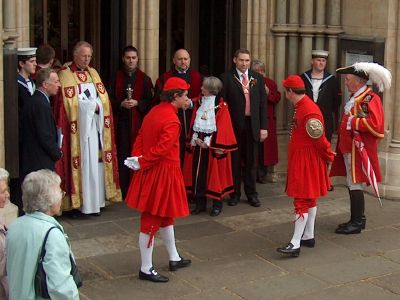 Dean of Southwark Colin Slee prepares to receive the flame into the cathedral
Richard Furze, chief executive of Friends of the Elderly, said: "In our centenary year, the Flame will burn as a reminder that we all need to engage with older people in our communities, learn from them and offer them friendship and support. After all, one hundred years after we were founded older people are still at risk of experiencing loneliness and isolation. Some do not see anybody for weeks, and this must stop."
Richard added: "We need to develop a sense of community and care for the people that built the society that we all live in today. They deserve to have choice, peace of mind and independence, which is what Friends of the Elderly always aim to provide."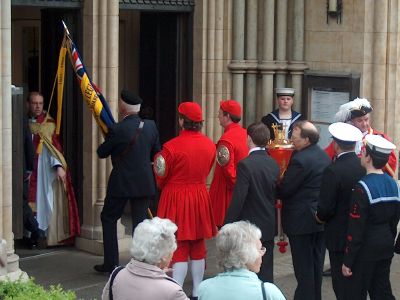 The flame is carried into the cathedral
The flame, in a ship's lantern, was escorted on a launch of the Port of London Authority from HMS President in Wapping to
Bankside Pier
via
Lambeth Bridge
and the Houses of Parliament. From Bankside the flame was escorted to Southwark Cathedral where it was formally passed to Friends of the Elderly in a special ceremony.

The flame will be displayed below the tower in the cathedral