Revised plans for the health-led regeneration of the Founder's Place site opposite St Thomas' Hospital have been submitted to Lambeth Council this week.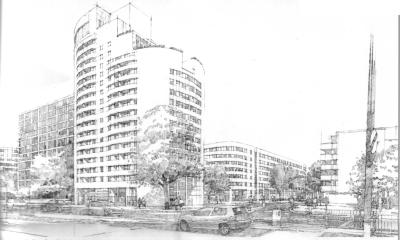 The redevelopment site, opposite
St Thomas' Hospital
on
Lambeth Palace
Road, will provide a range of health-related facilities, including a new residential facility for the families of sick children close to the new
Evelina Children's Hospital
, brand new key worker accommodation for around 400 NHS staff members and a new health facility. The provision of private flats on part of the site will help fund the redevelopment, which developers claim will "significantly benefit patients and staff" of Guy's and St Thomas' NHS Foundation Trust.
Guy's and St Thomas' Charity and its advisors have carried out a programme of consultation to find out local views and have sought to accommodate comments and suggestions wherever possible. This included a three-day public exhibition of the plans at St Thomas' Hospital. An example of how the proposals have been amended through consultation is the location of the replacement accommodation for the Charity's long-term tenants, which at their request, has been moved to a new building closer to Lambeth Palace Road.
"I am delighted that the application for Founder's Place has now been submitted," said Geoffrey Shepherd, chief executive of Guys' & St Thomas' Charity. "The suggestions and comments that we received during the consultation so far have been extremely helpful and have undoubtedly improved the scheme.
"The new high-quality key worker accommodation for hospital staff, health facility, patient hotel and Ronald McDonald House will not only be invaluable to the work done by Guy's and St Thomas', but also of great benefit to the wider community."
The mix of residential accommodation on the site breaks down as 52% key worker and affordable and 48% private.
Other elements of the scheme include a new day nursery with 102 places for the children of hospital staff and a Ronald McDonald House to provide accommodation for the families of very sick children receiving treatment in the new Evelina Children's Hospital. This is a new and larger facility to replace the current Ronald McDonald House located close to Guy's Hospital
A patient hotel is expected to offer high quality accommodation for patients who do not require full inpatient care
40 new flats will be provided for the long-term tenants of the Guy's and St Thomas' Charity, who currently occupy Canterbury and Stangate Houses. The charity's Registered Social Landlord partner, Genesis Housing Group, will run these flats.
A new public landscaped area, with a range of landscaping improvements across the site, together with a new east-west pedestrian link through the site from Carlisle Lane to Lambeth Palace Road
A plan for the site produced in 2003 was abandoned when the developer Taylor Woodrow pulled out.