Charmaine Brown has been named as Lambeth and Southwark's "most enterprising undergraduate" for her work this summer at London Bridge-based Green-Works.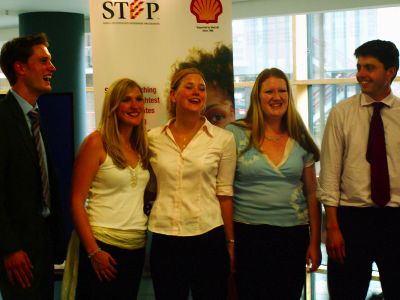 Shell's David Williams and Peter Webb with winners Claire Goodenough, Charmaine Brown and Laura Drane.
Shell STEP is a national programme arranging structured summer work placements for students at small and medium sized businesses. It matches undergraduates to SMEs with specific development projects in order to develop the students' workplace skills and deliver a project to benefit the host business.
11 undergraduates from Lambeth and Southwark, studying at universities all over the UK, spent eight weeks this summer working for a range of local businesses and organisations including South Bank Employers' Group (Waterloo Road), the Glass and Glazing Federation (Borough High Street), Blue Group International (Southwark Street), Health Information Systems and Green-Works (London Bridge).
All 11 students gave a PowerPoint presentation to a panel of judges from Shell, Guy's and St Thomas' NHS Trust and LSBU, who selected the overall winner and two runners-up.
The judges unanimously chose Charmaine Brown as the Lambeth and Southwark winner, and she will go on to represent the area at the London final to be held at Shell Centre later this month. She also received a cheque for £250.
Charmaine's placement at Green-Works, a London Bridge-based social enterprise which recycles office furniture donated by multinationals and passes it on to small businesses and voluntary organisations, involved compiling the company's annual sustainability report. "I have been able to provide Green-Works with a valuable component of any growing business," said Charmaine, who is studying geography at the University of Leeds.
Runner-up Laura Drane – who studies sociology at the University of Essex – spent the summer working for the South Bank Employer's Group in Waterloo Road. She was tasked with finding a new SE1-based designer for the group's quarterly South Bank News publication. Her presentation also explained her involvement in the launch event for the refurbished South Bank riverside lighting. Laura also spoke about how she had written a press release announcing two new members of SBEG, a story which was then followed up by the business news section of this website.
Another runner-up was marketing and public relations student Claire Goodenough, who worked on a range of projects for Oxford Street-based online research agency Brainjuicer.