A man whose surprise arrest at Southwark station in July caused the station to be closed has revealed what happened.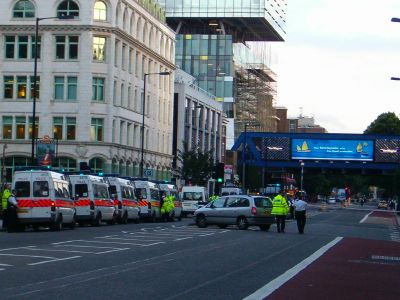 On the evening of Thursday 28 July, when London was on an especially high alert for terrorist activity,
Southwark station and surrounding streets were sealed off
as police poured into the area. Ev restaurant off
Hatfields
was evacuated.
Two months later The Guardian has published an account of events that night by David Mery who was arrested inside the station.
David, who works nearby, entered the station at 7.21pm on his way to Bond Street. As a train entered the north bound plaform he was surrounded by police officers who removed his rucksack.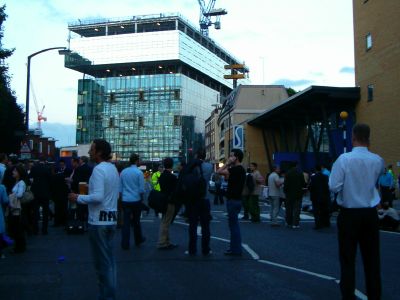 "They handcuff me, hands behind my back, and take my rucksack out of my sight." writes David. "They explain that this is for my safety, and that they are acting under the authority of the Terrorism Act. I am told that I am being stopped and searched because:

• they found my behaviour suspicious from direct observation and then from watching me on the CCTV system;
• I went into the station without looking at the police officers at the entrance or by the gates;
• two other men entered the station at about the same time as me;
• I am wearing a jacket "too warm for the season";
• I am carrying a bulky rucksack, and kept my rucksack with me at all times;
• I looked at people coming on the platform;
• I played with my phone and then took a paper from inside my jacket.

He says that later, upstairs where he discovered that the station had been closed, a police officer apologised on behalf of the Metropolitan Police and explained that a more senior officer would express further apologies.
"They take off the handcuffs and start giving me back my possessions: my purse, keys, some papers." writes David. "Another police officer says that this is not proper. I am handcuffed again. A police van arrives and I am told that I will wait in the back. After about five minutes, a police officer formally arrests me."
Arrested for suspicious behaviour and public nuisance, David was taken to Walworth police station. After his flat had been searched he was bailed and released at 4.30am.
Afterwards David Mery hired a solicitor who was with him at the end of August when he was informed that charges had been dropped. During this five minute meeting at 9am he was told that items removed from his flat would be returned later.
In his front page article, David Mery expresses concern that the police are entitled to keep his fingerprints and DNA samples taken on the day of his arrest although he is an innocent member of the public.