Lambeth Council has denied media reports that Christmas has been banned in the borough following the circulation of publicity for 'celebrity lights' in Waterloo.

Waterloo 'celebrity lights' in the current issue of the council's Lambeth Life
In three of Lambeth's town centres, the lights were referred to as "Winter Lights", while in a fourth – Waterloo – they were called "Celebrity Lights".
Conservative councillor Bernard Gentry told the BBC: "Christmas appears to have been cancelled in our borough".
A council spokesman said: "It was a junior-level decision and it happened to go into print which was an error basically.
"I think it was certainly not a council policy that we should call the lights winter lights."
The spokesman added: "The suggestion Christmas has been banned is absolutely ridiculous, the usual Christmas tree will be up in the Town Hall, the usual Christmas carols will be sung and we're looking forward to the Christmas lights being switched on."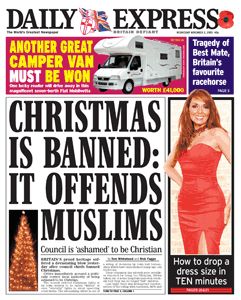 The row made the front page of Wednesday's Daily Express
Last year's Waterloo Christmas lights were
switched on by Maureen Lipman
, then playing Dim Sum in Aladdin at the Old Vic.