A branch of Neal's Yard Remedies has opened in Borough Market's Bedale Street.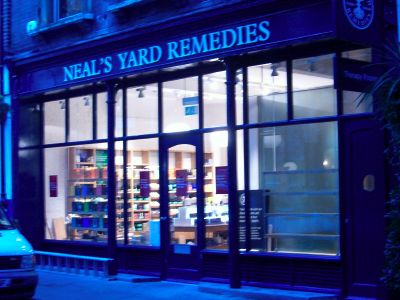 Neal's Yard, an alternative pharmacy, formulates products to be as natural and as close to plant sources as possible and to be both therapeutic and pleasant to use. They are also designed to be as biodegradable and environmentally friendly as possible.
Over fifty different species of medicinal herbs are grown at Neal's Yard's own organic herb garden, fed by natural spring water, in Dorset.
The full product range is vegetarian and many are vegan. The top selling item is Frankincense Nourishing Cream which is described as an "age-defying combination of frankincense and myrrh to revitalise tired or ageing skin".
The company was founded in 1981 in Covent Garden's Neal's Yard where the original Neal's Yard Dairy opened. A branch of the dairy can be found in Park Street.
• The new Neal's Yard Remedies and Therapy Rooms at 4 Bedale Street replaces the short-lived Beverley Knowles Fine Art which closed after just a few weeks when the landlord suddenly surrended his lease. Her last-minute attempt to rent the property from the owners, the Trustees of Borough Market, was unsuccessful. Beverley Knowles Fine Art, the only gallery specialising in modern women artists, is now in Notting Hill's Bevington Road.