The family of a PricewaterhouseCoopers actuary killed in road accident in Tower Bridge Road in 2003 travelled from Malaysia to plant a tree in her memory in Red Cross Garden last week.

Minal Kamdar's father plants the Katsura tree in memory of his daughter
The newly restored
Red Cross Garden
in
Redcross Way
was the setting for a ceremony last week to plant and dedicate roses and trees in honour of individuals with a connection to the garden.
PricewaterhouseCoopers, a long term supporter of the project, planted a beautiful Katsura tree by the main entrance gate to provide a magnificent display of ever-changing leaf colour through the seasons. It is dedicated to the memory of PwC staff member Minal Kamdar. Her family travelled from Malaysia to attend the planting.
Minal Kamdar, aged 21, was crushed by a cement mixer in March 2003 whilst cycling along Tower Bridge Road. Driver Warren Fisher was banned for 12 months and fined £1,000.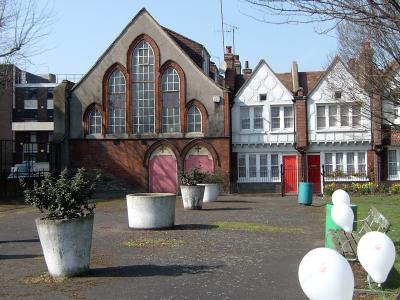 Bishop's Hall pictured in 2003, before the restoration of the garden
The British Association and
College of Occupational Therapists
planted
The Rose
variety 'Elizabeth Casson' named after the founder of the first school of occupational therapy – Dorset House, Bristol, in 1930;
The Rose
is a beautiful pale pink colour. Elizabeth Casson was manager of Bishops' Hall from 1908 to1913, the community hall built by Octavia Hill along with the cottages in 1888 as part of the Red Cross scheme, after which she left to study medicine. The Elizabeth Casson rose was planted alongside the
Octavia Hill roses
donated and planted by the Octavia Hill Society in August this year. Janet Richie, Elizabeth Casson's great niece, planted one of the roses.
"The occupational therapy profession owes a great debt to Dr. Casson and is delighted that her legacy can be celebrated in the garden where her belief in occupation for health was inspired," said Beryl Steeden from the British Association and College of Occupational Therapists.
Clare Armstrong, descendant of Octavia Hill who was co-founder of The National Trust and originator of the garden, planted a Japanese Bitter Orange shrub which will produce sweetly scented white flowers in the spring and miniature bitter oranges in the autumn. She is dedicating it to her kinswoman Octavia Hill, whose spirit and vision have been brought back to life in the restored garden.
The Christmas tree lights were switched on by staff from Marshalsea Road-based HuntDobsonStringer who have sponsored the first Red Cross Garden Christmas tree.
Originally laid out in 1887, Red Cross Garden provided 'light, air and sight of sky', beauty and nature, in an area of 19th century Southwark that suffered terrible pollution, crime and deprivation.
"The Garden will continue to develop with opportunities to learn about its social and natural history through activities, talks and exhibitions," says community gardener Agnes Knoll. "It is open 7 days a week and BOST employs a full time gardener for its care and maintenance."