Tory leader David Cameron paid two visits to the area on Tuesday ... meeting nurses at the Evelina Children's Hospital and launching his new set of Conservative values at Vinopolis.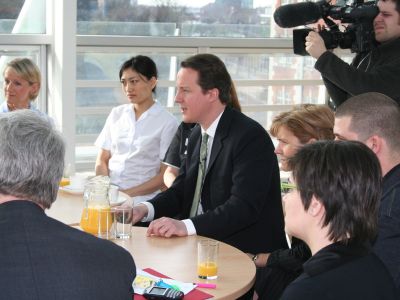 The leader of the Conservative Party, David Cameron MP, and his health spokesperson, Andrew Lansley MP, this week visited the new Evelina
Children's Hospital in
Lambeth Palace
Road.
As well as touring the building, London's first new children's hospital for more than 100 years, the pair spent time chatting with more than a dozen nurses about their work.
On Tuesday night he was at Vinopolis to address party members and unveil his new set of aims and values for "modern, compassionate Conservatism".
Local Conservative activist Martin Cakebread said: "It was a real boost to morale locally to have such a popular leader come and visit at such a pivotal moment in local politics. We are confident that going into to these elections on May 4th, the Conservative Party will be a force to reckon with in Southwark."
• In January Mr Cameron visited Coin Street Community Builders to launch his party's "respect agenda".