The Royal National Theatre Studio (formerly the Old Vic Annexe) in The Cut has been Grade II listed, Culture Minister David Lammy has announced.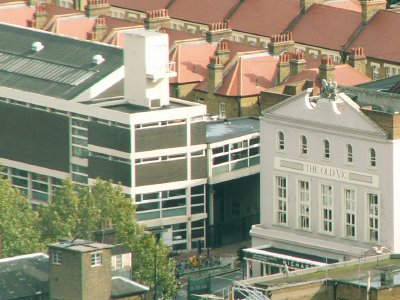 The National Theatre studio seen from the London Eye
The decision to list this building, regarded as one of the earliest – and purest – examples of New Brutalism, has been taken following advice from English Heritage, the Government's expert advisors on the built environment.
As the only architect-designed theatre workshop ever built in Britain, the annexe was built in 1957-58 to the design of Lyons Israel Ellis. It brought together scenery workshops, wardrobe stores and offices, previously inconveniently dispersed around London, on a single site adjoining the Old Vic.
The building was opened by the Queen in 1958.
"The studio is considered an important example in Britain of "New Brutalism", an architectural development of the mid-twentieth century characterised by massive form and scant exterior decoration," says Mr Lammy.
"The studio has historical significance too. Its association with the Old Vic, the home of the National Theatre until 1976, also adds strong group value and, as the only architect-designed theatre workshop in Britain, there is a good case for giving it the extra protection that listing affords."
In 1998 the National Theatre bought the annexe for £1.1 million. The National has plans for a major refurbishment of the studio.