A riverbus service linking the Tate Modern and Tate Britain galleries will be launched this week when Mayor of London Ken Livingstone opens the new Millbank Millennium Pier on Thursday.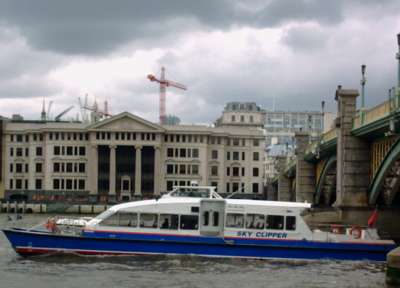 A Thames Clippers vessel emerging from Southwark Bridge
The service has been long planned and succeeds the Tate-to-Tate bus which ran during the modern art gallery's first summer. Following the Millbank Pier opening ceremony the Mayor will travel on a boat to Bankside.
From Friday, a boat will leave Bankside Pier every 40 minutes between 10am and 4.40pm, calling at Waterloo Millennium Pier below the London Eye (for the Saatchi Gallery and other attractions) on the way to Pimlico. The full timetable (PDF) can be viewed here. Tickets will cost £4.50 (£3 with a Travelcard or £2.25 with a Freedom Pass).


Millbank Pier (photo: Beckett Rankine)

Millbank Pier seen from the river (photo: Beckett Rankine)
The contract for the construction of Millbank Millennium Pier
was awarded in early 2002
. Just over a month ago it was
floated into place
.
The £1.8 million pier was designed by David Marks and Julia Barfield, the husband-and-wife team responsible for the London Eye. The
lead designer was Beckett Rankine Partnership, who have put together a website devoted to the new Millbank Pier.
Angela Bulloch, shortlisted for the Turner Prize, designed the lighting scheme with colours that change with the rise and fall of the tide plus 60 twinkling lights.
The service will operated by Thames Clippers, the company behind the existing Savoy to Masthouse Terrace fast ferry, linking Blackfriars, Bankside and London Bridge City to Canary Wharf and beyond. Unfortunately the summer timetable sees a reduction in frequency for this useful service, with weekday daytime frequency reduced to from 60 to 65 minutes and the weekend service cut back from every 40 minutes to every 80 minutes, presumably to make a vessel available for the Tate-to-Tate service.
Thames Clippers' flagship Hurricane Clipper now carries a livery designed by Damien Hirst, featuring 2500 dots. The Australian-built vessel is the fastest on the Thames, and features airline-style seating and an on-board bar. The 220 headrests also feature Hirst's coloured spots, while passengers will be issued with souvenir spotted tickets.
The Hurricane Clipper's future was thrown into doubt in February when Thames Clippers was threatened with the repossession of the £2 million craft.
The London First business consortium stepped in to help assure the future of the boat.
Plans are thought to be in place for a longer, more frequent service between Canary Wharf and Chelsea Harbour, to be funded by Transport for London.