Princess Anne was greeted with loud cheers when she visited Cathedral School in Redcross Way on Thursday afternoon as part of the primary school's tercentenary celebrations.

The Princess was greeted by children waving flags

The Princess meets headteacher Sylvia Morris and Dean of Southwark Colin Slee
Headteacher Sylvia Morris said: "We're delighted that Princess Anne can help us celebrate such a significant occasion. The school community are proud to be a part of such a rich history – and we look forward to providing a high standard of education for many more years to come."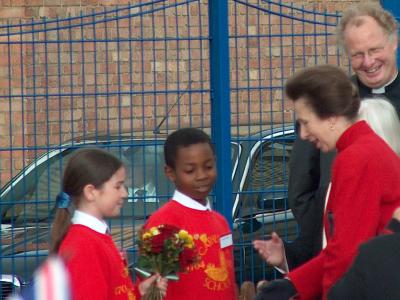 The royal visitor is greeted by the head boy and head girl

Unveiling a sculpture commissioned to mark the tercentenary
The sculpture is by Greenwich-based Gerda Rubinstein, who also created an artwork to mark the centenary of nearby girls' secondary school St Saviour's and St Olave's last year.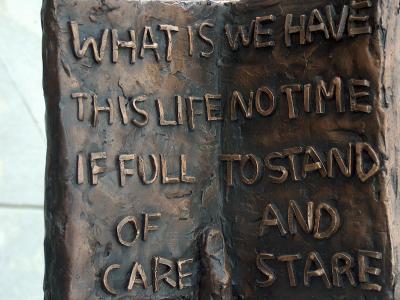 The text on the statue
She says that it was a challenge to create an artwork that expressed 300 years in one small sculpture. The work reflects the relationship between a school and its pupils: "the school needs kids and kids need the school". The artist used several pupils as models for the sculpture.
The sculpture features a pupil holding a book depicting the first line of WH Davies's poem Leisure, which he is believed to have written whilst living in Little Dorrit Court next door to the school.
The work – situated by Cathedral School's main entrance – is designed to be accessible yet childproof.
The royal visit is part of a year-long celebration of the school's 300-year history. Back in June a special service was held at Southwark Cathedral led by the Archbishop of Canterbury. Back in March the school received a visit from Lib Dem leader Charles Kennedy.