The second Bridget Jones Film, The Edge of Reason, features at least four locations in SE1, including the Globe Tavern in Borough Market.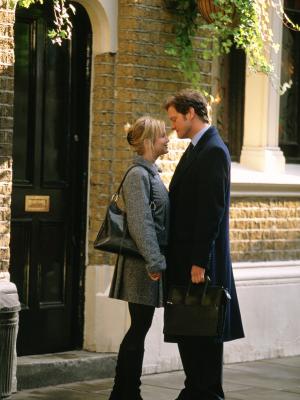 As in the first film, Bridget Jones's Diary, the singelton's flat remains in
Bedale Street
next to the
Globe Tavern
. There are plenty of scenes shot on the pavement in all weathers with customers at the next door pie shop looking on.
Again the balcony above Bridget's front door is a refuge from the flat but this time for a snatched phone call whilst Mark Darcy (Colin Firth) sleeps on inside.
The interior was recreated on an Ealing soundstage with production designer Gemma Jackson adding a few new touches including a even larger collection of self-help books than in the first film.

Globe licensee Pat Heathcote told trade newspaper The Publican: "It was such an exciting time when we learned that the Globe was once again to feature in the new movie. I've been a big fan of the books and loved the first film. Everyone in the pub is now looking forward to the latest movie."
A crucial scene is played out in splendour at County Hall whilst the late night bust-up takes place outside the new seat of London's government – City Hall at More London. A surprise is seeing Colin Firth walking down Lower Marsh in the dark just as he did in Trauma.
Sadly the Hopton Street scenes have been cut so Purdy Hicks does not feature after all. Nor does the Clink Street flat of Daniel Cleaver (Hugh Grant).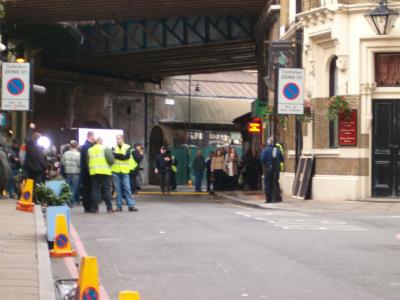 Filming in Bedale Street in February 2004
Most intriguing is the claim by producer Jonathan Cavendish that one shop in
Bedale Street
has been cut out of shots after the owner demanded "20 times more than the going rate".
The fast-moving film includes scenes in Thailand and Austria.
• Bridget Jones: The Edge of Reason is on general release from Friday 12 November.
• Buy the book 'Bridget Jones: The Edge of Reason' from Amazon.co.uk
• The Globe Tavern featured in a benefit fraud ad campaign last year.