The South Bank will once again be at the centre of London's New Year celebrations with a massive fireworks display.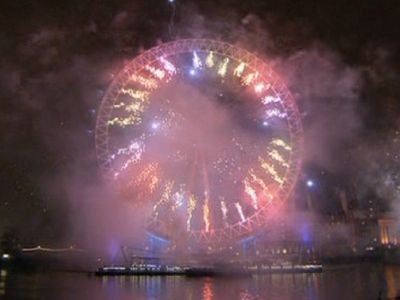 The 2005 display
There will be a rolling programme of lighting and large scale projection effects beginning at 8pm. Images of unsung London heroes, as well as celebrities who have contributed to the life of the capital during the past year will be projected on to the Shell Building.
From 11.55pm the countdown to midnight will commence. Following the chimes of Big Ben, a spectacular ten-minute fireworks display will be fired from the London Eye and from the river. The display will be visible from wherever you can see the Eye, and will also be broadcast live on BBC1.
The chimes of Big Ben will be relayed to Belvedere Road.
Roads in and around central London [map] (including Waterloo Bridge, York Road, Westminster Bridge and Westminster Bridge Road as far as Baylis Road) will close at 8pm on 31 December. A number of parking bays will be suspended. This is to facilitate the celebrations and crowds that will gather. Police advise motorists not to drive into town.
Access to the west side of Hungerford Bridge will be restricted throughout the event. From 8pm the east side will be open one-way from south to north until 11.30pm, from 12.10pm the flow will be reversed from north to south. No viewing of the fireworks is permitted from either side of the Golden Jubilee Bridges.
Low water is at 8.20pm on New Year's Eve and the beach will be exposed. Police advise that anyone standing on the foreshore puts themselves at risk. The life expectancy of anyone falling or jumping into the River is very short. Officers from the Marine Support Unit will be out on patrol in support of land-based officers. They will be working in partnership with colleagues from the RNLI and Port of London Authority.
"For thousands of revellers every year central London is the place they choose to welcome in the New Year," says Chief Superintendent Helen Ball.  "Crowds fill the streets around Trafalgar, Parliament and Leicester Squares plus the Victoria Embankment to hear Big Ben strike and watch the fireworks display."
"It's our job, working with our partners, to make sure that people see in 2006 safely and have the best possible time.  I'd ask you if you're coming along to help us with this difficult job by keeping an eye on your belongings and making sure you are aware of your surroundings."
Tube travel was due to be free of charge in the early hours of New Year's Day, but a planned strike could scupper that.
If the strike does go ahead, London Underground says that it will seek to run services where it is safe to do so.
• 2005 New Year fireworks
• 2004 New Year fireworks
<