When Rolf Harris opened the Not The Royal Academy Exhibition, at the Llewellyn Alexander Gallery in The Cut, he found a painting of himself in his studio.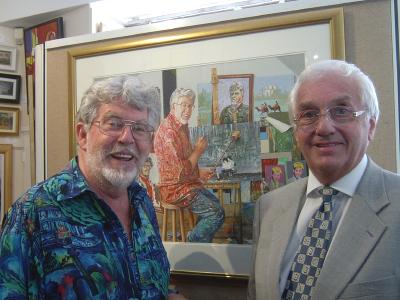 Rolf Harris with William P Mundy at the Waterloo gallery
Among the thousand paintings, all rejected by the Royal Academy Summer Exhibition, is a portrait of Rolf Harris in his Thames-side studio surrounded by many of his own paintings.
'Rolf's Studio' is by William P Mundy who took six months working on the minute detail of Rolf's works painted in the style of Lowry, Warhol and Van Gogh. One shows Rolf's grandfather painted in the style of an early photograph.
A painting by Rolf Harris recently adorned ther front of nearby Southwark Station.
Other works in the show include Sunset Butler's Wharf by Derek Carter which shows craft at the pier with Tower Bridge and the Gherkin in the background.
The exhibition, inspired by the original Salon des Refusés in Paris, is now in its fourteenth year and has become an unofficial extension of the RA's Summer Show.
• Not the Royal Academy is at the Llewellyn Alexander Gallery in The Cut until Saturday 28 August; Mon-Sat 10am-7.30pm; free. All the work is for sale.