Postal Service Campaign
This page has not been updated recently and may not contain the latest information.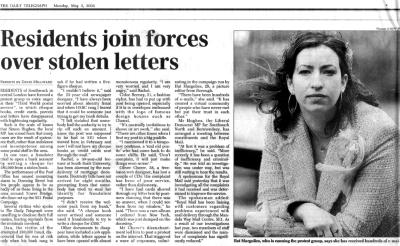 Click the image for a larger version

Simon Hughes meets with members of the London SE1 Forum
On 1 December 2003 Harry started a thread in the London SE1 Forum complaining about the poor quality of the Royal Mail postal delivery service in the SE1 area. "Anyone else having this trouble?" asked Harry. The tales of missing parcels and delayed post flooded in.
Now members of the London SE1 Forum are mounting a campaign to get Royal Mail to take action to rectify the problems experienced by local residents and businesses.
They have already met Simon Hughes MP at a specially arranged public meeting and he is also pursuing the matter.
Latest news
New contact numbers for Mandela Way office: 020 7740 7773 for complaints and 020 7232 2994 for redelivery of parcels.
In the London SE1 Forum
Third World Postal Service
The original thread
SE1 postal service problems (continued)
Part 2 of the discussion
SE1 postal service problems (part 3)
The third installment
The current thread
(add your experiences here)
On the London SE1 community website
Postal service campaign hits the national press
3 May
SE1's postal service: 'Incompetent at best; criminal at worst'
28 April
MP agrees to investigate complaints about SE1 postal deliveries
23 January
MP joins SE1 forum's postal service campaign
20 January
In the Daily Telegraph