Dozens of Southwark churchgoers travelled to Hertfordshire on Friday for the installation of Jeffrey John - until last month chancellor and canon theologian at Southwark Cathedral - as Dean of St Albans.

The Very Revd Jeffrey John with the Bishop of St Albans Christopher Herbert (Photo: John Tanner)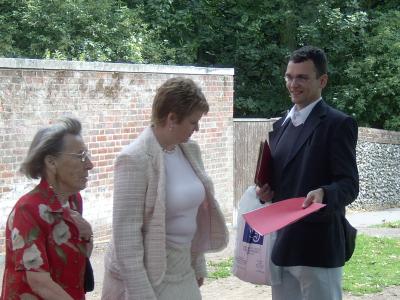 A protester hands out literature outside the cathedral before the service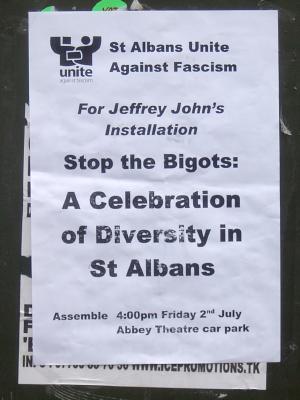 A poster advertising the counter-demonstration
The cathedral was packed with up to 2000 people who warmly applauded John's installation as Dean. Outside the church all was quiet as the expected National Front demonstration failed to materialise.

Members of the Lesbian and Gay Christian Movement held banners as the congregation left the cathedral
Making an impromptu speech once the applause had died down, Dr John said that he had struggled to recognise himself in some of the things that had been said and written about him in the past year. "I hope from this point on normal church service can be resumed," he added.
"This is where God wants and intends me to be, and there is nowhere else I would rather be. I hope we can get on now with what really matters – to God and the gospels."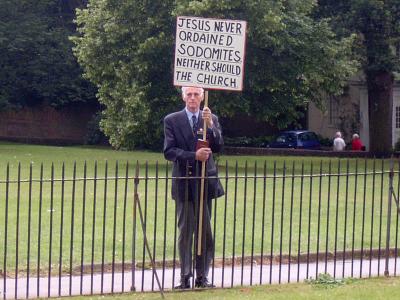 A lone protester stood outside the cathedral as the congregation filed out
In his sermon the Bishop of St Albans Christopher Herbert said that "Jeffrey John's courage in saying his 'yes' should never, ever, be underestimated – knowing what the reactions in the Church and media might be."
Earlier in the service Dr John was inducted as rector of the abbey church by the Archdeacon of St Albans, the Venerable Helen Cunliffe, formerly canon pastor at Southwark Cathedral.