A commemorative plaque recognising the wartime sacrifice of staff who worked in the warehouses at Hay's Wharf in Tooley Street has been returned to its original home.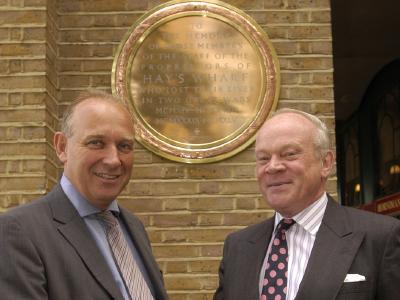 Nigel Brown (left) and Bob Lawson with the plaque
The plaque was commissioned by the proprietors of Hay's Wharf at the end of World War II in memory of those members of staff who lost their lives in the two world wars. It was displayed at the company's headquarters in St Olaf's House in
Tooley Street
close to London Bridge.
Following the war the Hays Group was formed. and when the company's head office moved to Guildford in the early 1980s the plaque was taken with them.
Now the Guildford office is to be closed and the present management felt it would be appropriate for the plaque to be returned to Hay's Wharf, which has since been restored as Hay's Galleria, a riverside centre for shopping and dining.

Hay's Wharf at the start of the last century
At a short ceremony back in March Bob Lawson, chairman of Hays plc handed the panel over to Nigel Brown, managing director of St Martins Property, developers of Hay's Galleria. The plaque is positioned on the riverside walkway at the head of the Galleria where it can be admired by the thousands of visitors who now flock to the area.
"I am delighted to accept this handsome plaque and to display it, once more, at the heart of London Bridge City" commented Nigel Brown. "It serves as a timely reminder to us all of the remarkable history of this area, which was known as London's Larder, and its important place in the development of the city of London."