Gay rights groups are continuing to call for the cancellation of Jamaican reggae star Buju Banton's UK tour - due to start on Sunday at the Elephant & Castle - claiming his homophobic music could lead to violence.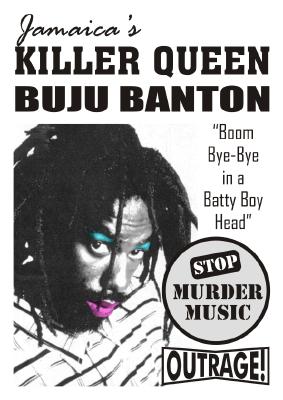 Poster carried by members of OutRage! at Gay Pride earlier this year
A warrant for Banton's arrest has been issued in Jamaica in connection with a vicious homophobic attack in June.
Banton – whose real name is Mark Myrie – has been the focus of the anti "murder music" campaign by gay rights group OutRage, which is calling for him and his music to be blocked since it calls for the violent killing of gay men.
Some of his lyrics have encouraged the shooting of gays, while others have called for acid to be thrown on them and for gay men to be set on fire.
OutRage is calling on the Coronet to cancel the gig, and says that if they fail to do so then Southwark Council should oppose the renewal of the venue's licenses.
"Giving a platform to a singer who encourages and glorifies the killing of other human beings is unacceptable" said an OutRage! spokesman.
"Any venue that promotes a pro-murder singer is unfit to hold a licence."