A record crowd was on London Bridge for the annual Blessing the Waters at lunchtime on Sunday.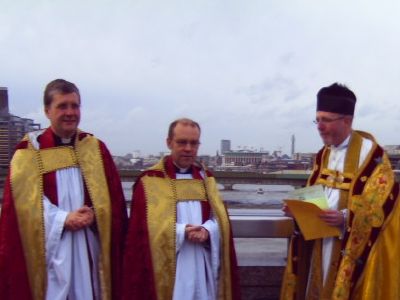 Members of the Sunday morning congregation at
Southwark Cathedral
joined in a procession on to London Bridge to meet the congregation of the City's St Magnus the Martyr riverside parish.
The ancient ceremony of Blessing the Waters takes place on Baptism of Christ Sunday when the baptism of the adult Christ in the River Jordan by John the Baptist is recalled.
Cathedral Sub-Dean Andrew Nunn and Canon Stephen Roberts were vested in copes to lead the procession along the bridge's upstream side to greet Fr Philip Warner of St Magnus on the Southwark boundary in the middle of the bridge.
Prayers were said for the Port of London Authority, lightermen, visitors sailing for pleasure on the Thames and those who died in the Marchioness disaster.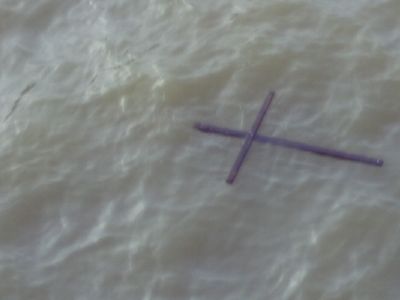 The climax of the short ceremony was the throwing of a large wooden cross into the water.
This year's blessing coincided with the turn of a high tide and the water flow briefly carried the cross upstream to float opposite the cathedral before the outgoing tide pulled the water back past St Magnus towards the estuary.
• Sightings of the cross in the water or on the river beach at low tide can be reported to us.