A celebration was held in Red Cross Garden on Monday to mark the start of work on the restoration-in-spirit of Red Cross Garden, a green oasis originally laid out by in 1888 by Octavia Hill.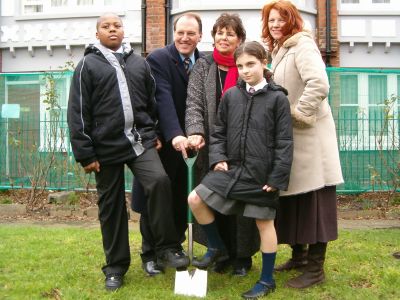 Two Cathedral School pupils with Simon Hughes MP, actress Margaret Wolfit and BOST director Helen Firminger
Heritage Lottery funding of £514,500
has enabled
Bankside Open Spaces Trust
to work with local residents, businesses, and historians to develop and implement plans to restore the original layout of this Victorian garden in
Redcross Way
for the enjoyment of visitors. These plans include the recreation of the pond with its rustic bridge, new flower beds, lawns and benches, and a small information centre and gardener's office.
Originally laid out in 1888 by National Trust founder Octavia Hill on the site of a derelict paper factory, the garden was described as 'an open air sitting room' for the people of Southwark. It was the setting for the annual Southwark Flower Show and many fetes and concerts in its heyday.
BOST marked this occasion with a small celebratory ceremony addressed by Octavia Hill's biographer Gillian Darley, vice-president of the Octavia Hill Society.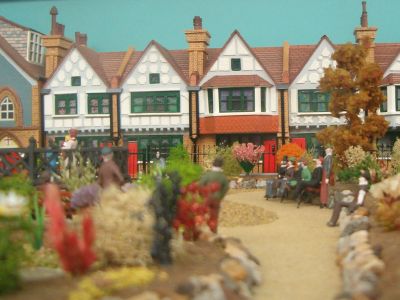 Scale model of the original garden lent by the Octavia Hill Birthplace Museum in Wisbech.
Joyce Bellamy from the Metropolitan Public Gardens association presented BOST with a cheque for more than £900 to pay for one of the benches to be installed in the restored garden.
"These works will bring back a wonderful oasis in this part of the city, recreating a historic garden of which local people can be justifiably proud," said project manager Verena Cotton. "It is the culmination of many years of hard work by all those involved. Octavia Hill originally laid out the garden to bring fresh air and nature into the lives of the people of Southwark and we are looking forward to a time when the garden is well-loved and well-used once again."
The work is due to be completed in June.
• BOST has leased Red Cross Garden for 25 years from Southwark Council.
• BOST is recruiting a community gardener for Red Cross Garden – see advertisement on page 3 of the January 2005 issue of in SE1