Bankside businesses have voted in favour of a Business Improvement District (BID) which will provide investment in the area funded by a 2 per cent levy on business rates.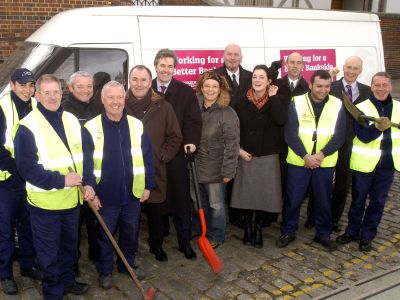 Celebrations: Southwark street cleaners join (from left to right) Chris Bateman, Better Bankside; Nick Roberts, Chair of Better Bankside; Catherine Bowman, Deputy Leader of Southwark Council; Donald Hyslop, Tate Modern; Helen Santer, Central London Partnership; Peter Williams, Better Bankside; Giles Semper, Better Bankside.
The Better Bankside BID received 75% of the votes cast representing over 66% of the ratable value of the businesses that voted. Companies and enterprises in Bankside have been voting on whether to proceed with a formal BID since December 14.
"Over the past 4 years we have been developing a programme which reflects the priorities and concerns of the businesses within the area" said Peter Williams, chair of Better Bankside. "This result will allow us to go much further in addressing these. The businesses based here value Bankside as a special place, we now have a mandate to ensure that this is sustained for the benefit of all who live, visit and work in Bankside."
Cllr Richard Porter, Southwark Council's executive member for regeneration and economic development, said: "Over the past few years Bankside has become a hive of cultural industry boasting world-class attractions like Tate Modern and Borough Market. Services in the area have already improved and the local Street Action Team have been applauded for helping to make Bankside cleaner and safer. Better Bankside can only add to these services and give local businesses a full stake in the area's future. I am certain that this BID has the ambition, the energy and the teeth to ensure Bankside flourishes in years to come."
Better Bankside has operated for the past four years as a pilot programme and forms part of the Circle Initiative – a group of five central London BID pilots.
Better Bankside has already spent £750,000 of SRB and match funding in the Bankside area. The yes vote will now formalise the BID and allow it to charge a 2% levy on business rates which, topped up from public and private sources, will finance the continuation of these improvements.
Circle Waterloo is a pilot BID operating in the Waterloo area, and the Pool of London Partnership is considering a BID as a means of sustaining investment in the area when the partnership's funding comes to an end.
• 289 businesses in the Bankside area were eligible to vote in the ballot, which together had a combined total of 326 castable votes.
• 153 votes were cast in the ballot, 115 in favour of the BID.
• The aggregate ratable value of votes cast was £18,037,820
• The aggregate ratable value of votes in favour of the BID was £12,006,805