Work is underway to transform wasted space near Tooley Street into a new piazza and communal garden that will both beautify a key pedestrian route and boost community spirit.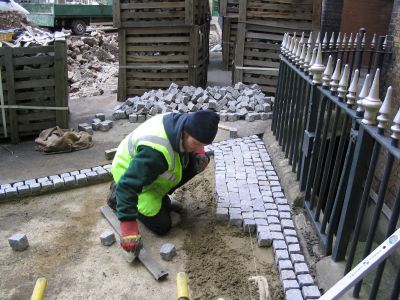 Fair Community Housing Services, the third largest tenant management organisation in Southwark, came up with the idea to combine two nearby under-valued and under-used spaces into one cohesive, attractive piazza and communal garden in a conservation area behind the five-storey blocks of flats that front onto
Tooley Street
.
The project is being supported by the Pool of London Partnership and Southwark Council through its Cleaner, Greener, Safer Fund.
The 15,200 sq ft space for the proposed new piazza and park will benefit 300 tenants who live in the Devon Mansions flats which date from the 1890s and the tenants of the Coxson Way estate that also overlook the area, plus the hundreds of pedestrians who use the space as a shortcut.
The imaginative design will convert a large area of boring tarmac into a pleasant piazza for sitting out and possible community events, combining this with a currently fenced off and underused area with oversized mature trees to create a more welcoming and accessible community garden.
Commenting on the new project, Christopher Baggott – chair of Fair Community Housing Services – said: "This project will create opportunities for leaseholders and tenants alike to unite with the common purpose of improving and enjoying the area in which they live. The consultation stage of this project was particularly important as this drove its development, firmly orientating its design around extensive community involvement including the prospect of community gardening clubs to assist with maintenance but also reinforce residents' pride in the area."
The project is due to be ready for people to enjoy at the start of the summer.