The Rough Guide to Shakespeare has been launched with a party at Shakespeare's Globe.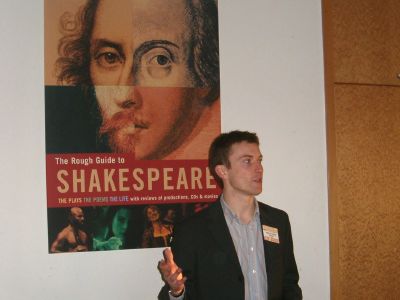 Author Andrew Dickson spoke about his three years of research and writing which has resulted in a large format paperback. Included is a character list and synopsis of every Shakespeare play and poem as well as details of past productions on stage and screen.
The launch was just days before Shakespeare's birthday celebrations on Bankside and Andrew Dickson was keen to stress to the audience of booksellers and theatre fans that he was aiming the book at a wide audience from school children to those booking for a Globe performance.
Andrew Dickson, who has a Cambridge double first in English and was awarded an MPhil with distinction in Renaissance Literature, now works for The Guardian.
• See the May issue of in SE1 for a review of The Rough Guide to Shakespeare (£14.99).