MediCinema, Darth Vader and Stormtroopers from the UKGarrison played host to a very special screening of "Star Wars Episode III: Revenge of the Sith" in the on-site cinema at St Thomas'.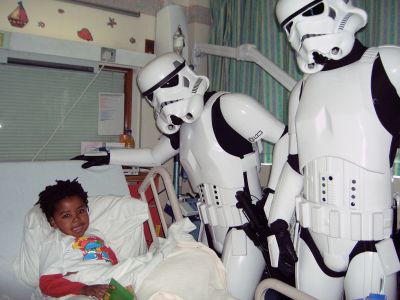 Darth Vader and six Stormtroopers abandoned the 'dark side of the force' for the evening to bring smiles to the faces of sick children on the wards of Guy's &
St Thomas' Hospital
s and act as cinema ushers and sign autographs, before experiencing the magic of MediCinema – just what the doctor ordered. But this is no ordinary cinema – a team of nurses are on hand throughout the screening and there are spaces for beds and wheelchairs.
Before the film patients were treated to a video link from New York where Mas Amedda, C3PO and Chewbacca sent their best wishes to everyone at Guy's & St Thomas' Hospitals wishing they could be with everyone at MediCinema.
"Of all the charity events we [the United Kingdom Garrison] attend, the best ones are where you can actually see the charity in action," said John Harris, commanding officer of the United Kingdom Garrison. "The MediCinema Star Wars screening has proven to be one of those great events where we got to see smiling faces of the people we were there for. MediCinema is an inspired idea, and we were extremely happy to have helped out. We look forward to supporting this visionary concept again soon!"
MediCinema brings the therapeutic benefits of a true cinema experience to those who would not normally be able to enjoy the magic of the silver screen, by installing state-of-the-art cinemas in hospitals. It allows easy acess for patients young and old, including those in beds and wheelchairs, and their carers and families, making it a truly social occasion. Admission is free of charge. In many of MediCinema's screenings the audience has included children with heart transplants and those waiting for kidney transplants, those undergoing chemotherapy and those recovering from serious operations who could not have seen the film in any cinema other than the MediCinema. We aim to cheer the patients up, by regularly screening films so they can escape into the magic that is cinema.