Park Plaza Hotels plans to become the South Bank's largest hotel operator with two new developments, including a 930-room conference hotel on the County Hall annexe site at the end of Westminster Bridge.
The new hotels are being built and owned in partnership with developers Galliard and Frogmore, both of which have signed long term management agreements with Park Plaza Hotels Europe which will operate the hotels under the Park Plaza Hotels & Resorts brand.


Atrium of the County Hall Park Plaza
The first to open – in 2008 – will be the
County Hall
Park Plaza – in
Addington Street
, opposite the former home of London's government. The hotel will boast 395 luxury guestrooms, suites and penthouses of which more than half will have fully equipped kitchens. The individually designed, fully air-conditioned guestrooms and suites will include bespoke furniture, the latest in-room technology, flat screen televisions, wireless internet and the rooms on the upper floors of the hotel will afford striking views of the River Thames.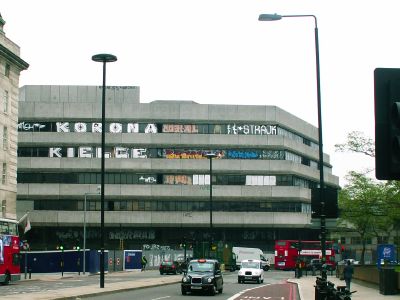 2005: The derelict County Hall annexe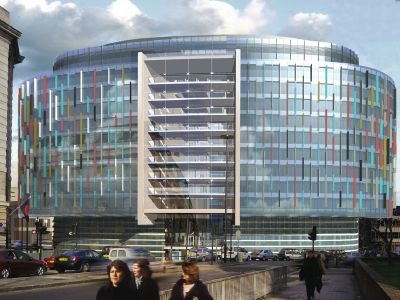 2010: Westminster Bridge Park Plaza
The second hotel, opening in 2010, will be one of the largest conference hotels to open in London for several decades – Westminster Bridge Park Plaza – offering more than 930 guestrooms and conference facilities for 1,000 delegates or more. Park Plaza Hotels say that this will be the largest and most prestigious venue in their worldwide portfolio.
The Westminster Bridge Park Plaza will be located at the end of Westminster Bridge, on the site of the notorious County Hall annexe, derelict for at least a decade and a half. It will be replaced by a 14-storey hotel landmark with a "spectacular" full-height atrium.
The hotel will offer a health spa with gym, indoor swimming pool and fitness area, two restaurants, a bar with a stunning vista of the Houses of Parliament, executive business lounges, business centre and retail outlets.
All guestrooms will have similar state-of-the-art features as the adjacent County Hall Park Plaza, including the fully equipped kitchens in many of the rooms.
With these two additions to its hotel portfolio, Park Plaza Hotels Europe will operate more than 2,200 guestrooms in central London – including 475 rooms at the Riverside Park Plaza on Albert Embankment.
Boris Ivesha, president & CEO of Park Plaza Hotels Europe, said that he was "delighted to be opening these [hotels] well in time for the London 2012 Olympics."
County Hall Park Plaza and Westminster Bridge Park Plaza are both owned by private investors in partnership with Galliard and Frogmore Property Company Limited.
Galliard is already running an extensive marketing campaign promoting the Westminster Bridge Park Plaza as an investment opportunity under the 1 Westminster Bridge brand. A launch event for prospective investors is to be held at the Riverbank Park Plaza, 18 Albert Embankment, on Saturday 22 and Sunday 23 October. Doors open at 10.30am.