The wonderful newly built Unicorn Theatre for children has opened with a truly memorable production.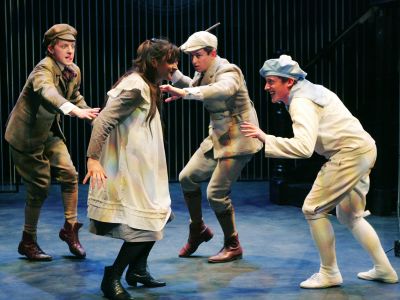 Pete Ashmore as James, Debra Penny as Hatty, David Ricardo-Pearce as Edgar and James Andrews as Hubert. (Picture: Ben King)
Tom's Midnight Garden is a classic play in every sense of the word. The playwright David Wood has adapted Philippa Pearce's novel – written in the 1950s – and has vividly brought it to life for both children and adults.
The play centres around two childhoods and a beautiful garden. The mystery and magical atmosphere is that the two childhoods of Tom (Rudi Dharmalingam) and Hatty (Debra Penny) are separated by Time. Hatty is a Victorian young girl while Tom is living in the middle of the twentieth century.
Tom is sent away to stay with his aunt and uncle while his brother is ill. It is then that he enters a different world in more ways than one. He describes his friendship with Hatty which occurs when the clock strikes thirteen to his brother in a series of letters.
'And there shall be Time' – some people say it is relative and of course it is especially when Hatty skates away into adulthood over the ice to Ely. A wonderful scene.
All the characters are spot on, the costumes evoke the two eras with authentic charm. The monochrome stage set adds sophistication and warmth while the musical trio creates a perfect atmosphere.
In the words of the elderly Mrs Bartholomew the mystery is solved: 'At my age you live in the past ... you need someone to play with".
On being asked what is the play about, one of my young companions replied:
"It's about Tom experiencing Mrs Bartholomew's memories."
The Unicorn Theatre is an exceptionally good place to go for both adults and children and this play in particular a welcome change from the hyper-technical entertainment of cinema and computer games so often experienced by young children.
You can eat delicious homemade food at the award winning Frizzante Café, within the theatre itself.
• Tom's Midnight Garden runs until 29 January at the Unicorn Theatre
• How we reported the opening of the theatre on 1 December