Volunteers Daphne Fallows and Wendy Mathews have been awarded Year of the Volunteer medals for their work at the Florence Nightingale Museum.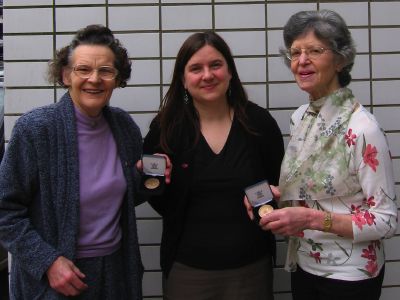 Zoe Gilbert with Daphne Fallows (left) and Wendy Mathews (right)
The two surprised winners went to Guildhall to receive their awards from the Lord Mayor of London after being successfully nominated by the museum's learning and access manager Zoe Gilbert.
Daphne Fellows received her medal for Commitment whilst Wendy Mathews' medal is in the Partnership category.
Zoe Gilbert said: "Our volunteers make a fantastic contribution to the museum and in making sure visitors have a friendly, fun visit. We really value the contribution they make and how they link us to our local communities. We felt Wendy and Daphne deserved special recognition for their impressive length of service at the museum, their dedication and the extra responsibilities they've taken on to enhance the education programme and running of the museum."
The Florence Nightingale Museum at St Thomas' Hospital has 35 volunteers who work front-of house, help with special weekend events and give guided tours. In addition Wendy Mathews, who lives in SE1, leads historical tours of St Thomas' and gives illustrated lectures on Florence Nightingale and Mary Seacole.
Daphne Fallows trained as a Nightingale Nurse and Wendy Mathews trained at St Thomas' as a physiotherapist. Both are retired.
Both women are full of admiration for Zoe Gilbert's work and amazed that she found time to propose them for an award.
"Over the past two years Zoe has made substantial developments in educational work in the museum" said Wendy Mathews. "This is especially so for 6 and 7-year-old children and with local further education institutions at access to nursing level. With nurses of the Guy's and St Thomas' NHS Foundation Trust she has produced a history of nursing study programme for national and international nursing groups.
"In early 2005 she passed an advanced managerial course and in mid-2005 administered the successful bid of the museum to receive an Investors in People award."