The celebrated poet visited the new Evelina Children's Hospital on Monday to read some of his poems which are displayed around the hospital.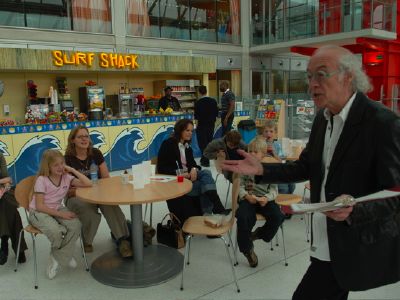 Roger McGough entertains patients and visitors in the café in the Evelina Children's Hospital (Richard Bailey)
Altogether 15 poems by the renowned children's author have been selected by Guy's and St Thomas' Charity as part of the art work which decorates the
groundbreaking building
.
The poems have been published in the anthology All the Best: The Selected Poems of Roger McGough, published by Puffin Books. A further five poems have been selected from a book of poetry called What's your problem? written by pupils at the Evelina Hospital School.

The poems are displayed in vinyl lettering on the walls around the hospital, helping children and their families, as well as visitors and staff at the hospital, to take a sideways look at life whilst in the confines of the hospital building.
Roger said: "My poetry aims to capture the wonderful way that children see things. Having poetry around the hospital will hopefully bring a few smiles to faces and help take children's minds off the worry of being in hospital."
Where possible the poems have been selected to fit with the themes from the natural world that represent each floor.