Four out of five of the winners of the new Blue Plaques presented by Southwark Council are in SE1.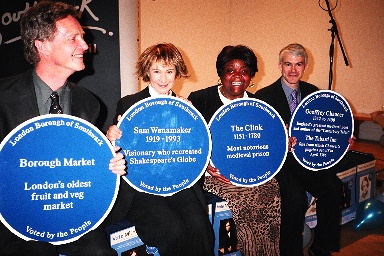 Over 10,500 votes from all over the world were cast to recognise and commemorate the most significant places and people in historic Southwark. The four local winners were Chaucer's Tabard Inn (now
Talbot Yard
), The Clink,
Borough Market
and Sam Wanamaker and the Globe. Of these the last three are marketed as tourist attractions, but Chaucer was supported by an international campaign rallied by Nick Pembury of
Copyprints
, which was founded in
Talbot Yard
over 40 years ago by Jack Hames, who was present at the ceremony. "It is brilliant that that the campaign attracted individual votes from customers rather than from institutions" said manager John Wheeler.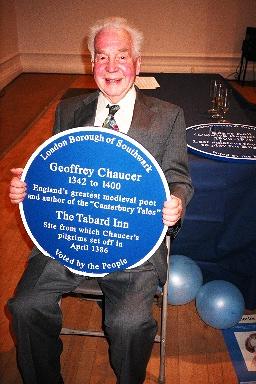 Jack Hames of Copyprints
Zoe Wanamaker paid an emotional tribute to her father, relieved at last that his old adversary
Southwark Council
was able to acknowledge, through the winning votes of nearly 4000 people, the strength of his vision and persistence.
The only non SE1 Blue Plaque went to playwright Oliver Goldsmith: teachers at the Peckham school bearing his name had galvanised all the children into voting and initiated a huge interest in his works and writing in general.
The Blue Plaques will be soon appearing in their rightful places and nominations have opened for 3 new plaques for 2004 – see www.southwark.gov.uk