Southwark Council has annouced further display dates for the regeneration proposals for the Elephant and Castle.

Residents taking part in the Heygate consultation
The plans can be seen at the following locations:
• Southwark Town Hall, Peckham Road, 11 August – 5 September
• Elephant and Castle Leisure Centre, 22 Elephant and Castle, 11 August – 28 August
• London College of Printing, 29 August – 5 September
Information about the plans and feedback forms will be available at each location.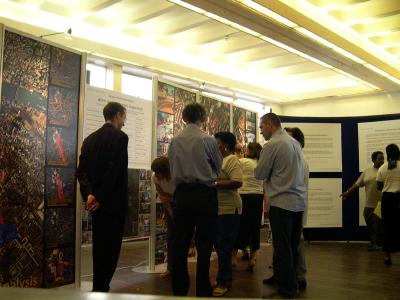 Residents taking part in the Heygate consultation
These dates follow a three week consultation period with residents on the Heygate estate which closes on 2 August. Every household on the estate was invited, on a block-by-block basis, to view and discuss the plans which were displayed in the Estate's clubroom. The consultation was run with the Heygate Residents and Tenants Association.
Under the proposed regeneration plans, Heygate residents will be provided with new homes in the area and the estate removed. The building of these new homes, due to start next year, will form the first phase of the regeneration which will see the creation of a new town centre, new homes, two new parks and an improved transport network.
The Council will communicate directly with Heygate households to keep residents informed about these housing developments plans.
Residents wishing to comment about the proposed plans can write, no stamp required, to Elephant and Castle Feedback, Marketlink Research, FREEPOST LON3021, London W3 0BR. Completed feedback forms can also be sent to this address. Residents can also contact Council staff directly via email at [email protected] or by phone 020 7525 4922.