The Thames Clippers riverbus service which links SE1's Bankside and London Bridge City piers with Canary Wharf has a more secure future thanks to a financial package announced earlier this month by Ken Livingstone.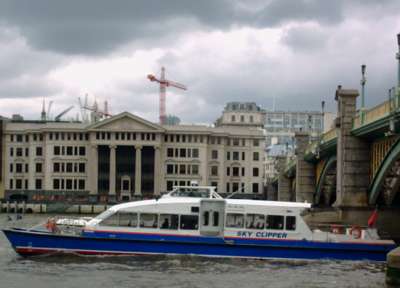 The first financial package to secure the future of river services was announced jointly by Mayor of London Ken Livingstone and Stephen O'Brien of London First.
The Thames Clippers service which operates daily from Savoy Pier to Masthouse Terrace on the Isle of Dogs via Blackfriars, Bankside, London Bridge, St Katharine's, Greenland and Canary Wharf will receive a £3m subsidy from Transport for London over a 10 year period and £1m of private sector sponsorship from London First over the next 5 years. The high speed catamaran service has been running for three years and carries 1500 passengers a day.
Mayor of†London Ken Livingstone said: "I'm delighted that we've been able to secure the long term future of this service. I want to see more people using the river for commuting but services have to be reliable to achieve this. The funding announced today will ensure that this service remains reliable, a delight to use and highly regarded by its regular passengers".
The deal comes after Transport for†London invited bids to operate riverbus services and will secure the existing service and provide an additional back up boat to guarantee reliability.
Thames Clippers Chairman Alan Woods said: "We have had four years hard slog, and never lost faith that a river commuter service would work, the punctual timetable has been excellent in view of our previous limited resources and now with a spare boat, Star Clipper, we look forward to storming ahead. Congratulations to MD Sean Collins and his team and also to Stephen O'Brien and the Mayor for giving the service support when it was needed."
Thames Clippers also operates the Tate to Tate service linking Bankside Pier with Millbank via the London Eye. The company also plans a link to the Excel centre in the Royal Docks during major trade shows, with a stop at Festival Pier for travellers arriving by Eurostar at Waterloo.