Mark Rylance has announced that he is to step down as artistic director of Shakespeare's Globe at the end of next year after 10 years in the job.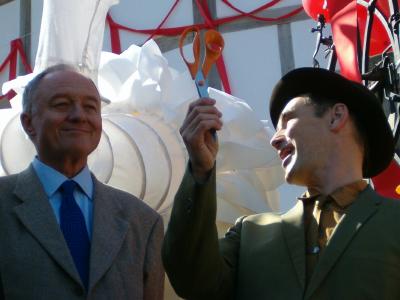 Mark Rylance (right) with Ken Livingstone at the Globe's St George's Day celebrations in April
In a personal letter to colleagues and friends he wrote: "Never has an actor had such an opportunity as you entrusted to me when I was asked to help bring your dream of a working Globe Theatre through its birth into its childhood. The completion of the indoor Inigo Jones Theatre is again in our dreams and I hope that it may help to attract a fantastic Artistic Director. I intend to do everything I can to help make the transition to a new Artistic Director transparent and exciting for the Globe. I will endeavour to always be at the Globe's service."
Sir Michael Perry, chairman of the Shakespeare Globe Trust, commented: "Mark has made an enormous contribution to the Globe and has thoughtfully given us time to find a suitable successor. We hope that Mark will consider returning to the Globe stage as an actor and supporting us as we plan our future development."
Peter Kyle, General Director, said: "It has been a privilege and a personal pleasure to work with Mark who has played a major role as Artistic Director of the Globe and in achieving the great success we have enjoyed."
No further comment will be made by Shakespeare's Globe until the announcement of Mark Rylance's successor in 2005.