Did Queen Elizabeth I spend a holiday in Southwark? A recent musical production by local children told the story of a royal visit to Bermondsey.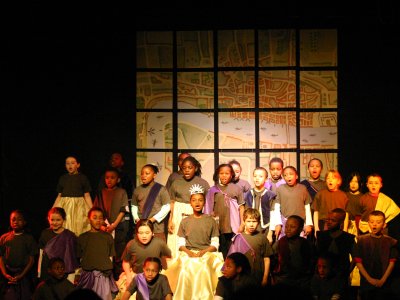 Writer Ellen Hughes and composer Russell Hepplewhite, currently resident musician at
Southwark Playhouse
, worked closely with forty children from
Cathedral School
and the
Borough Music School
.
In the production, staged at Waterloo's Network Theatre, the children told the story of Elizabeth I's visit to Southwark where she is welcomed and given a present: a fine hat made by the hatters of Hatfields. The Queen then calls in on the Globe Theatre before making her way down Bermondsey Street.
The premise for the play was inspired by a portrait of Elizabeth I with Bermondsey Abbey in the background.
The Clore Duffield Foundation provided a grant of £6,500 for the production as part of its small grants programme for performing arts education.