Shell Centre redevelopment: new offices, shops and 800 homes
A planning application for the redevelopment of the Shell Centre at Waterloo is being submitted to Lambeth Council this week.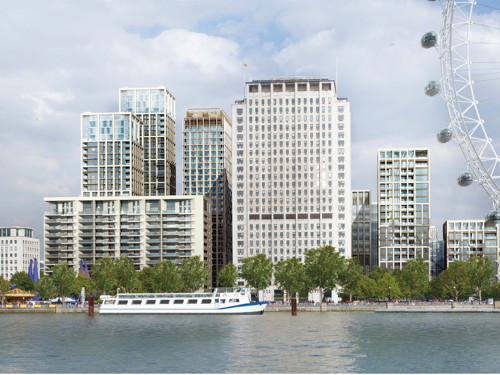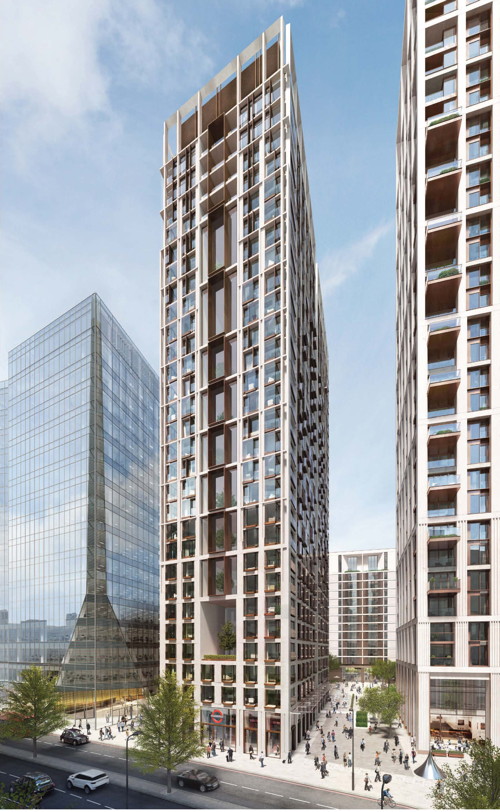 A year and a half after their joint venture was announced, developers Canary Wharf Group and Qatari Diar have released images of their proposed transformation of the Shell Centre campus which sits between York Road and Belvedere Road on the South Bank.
The masterplan has been designed by Squire and Partners with elements of the scheme designed by Kohn Pedersen Fox, Patel Taylor, Stanton Williams and GRID Architecture.
Squire and Partners' other current local projects include One Tower Bridge and One The Elephant.
Apart from the Shell Centre Tower, everything else on the site will be demolished to make way for eight new residential and office buildings, one of which will incorporate new offices and trading floors for Shell.
Up to 790 homes are proposed as part of the scheme, including some affordable housing.
Although the open expanse of the current podium at the Chicheley Street end of the site will be lost, a new public square said to be comparable in size to the courtyard of the Royal Academy of Arts in Piccadilly is to be created in the centre of the scheme.
Other public realm proposals include a new pedestrian route on the southern side of the railway arches at the north end of the site, wider pavements on Chicheley Street and trees along the central reservation of York Road.
The architects have also considered how the scheme will be seen from the capsules of the nearby London Eye, with green roofs and landscaped terraces as well as public art under consideration.
If the application gets a smooth ride through the planning system, demolition could begin next autumn with construction scheduled for 2015 to 2019.
However, the scheme is likely to face close scrutiny at City Hall and Government level because – like the adjacent Elizabeth House development – it is visible in views from the Westminster World Heritage Site.
The Shell Centre project team says that it has been in talks with English Heritage and Westminster Council and hopes that with Chelsfield's Elizabeth House prososal recently approved by Lambeth Council their scheme will not hit any obstacles.
"It is a privilege to have the opportunity to work on such a historically interesting and important site as the Shell Centre," said Sir George Iacobescu, chairman and chief executive of the Canary Wharf Group.
"Our vision is of a beautiful place to live and work in the cultural heart of the most exciting city in the world. Just as importantly, we look forward to working with the local authority and the community to ensure that local people get the best possible opportunities from this new development for many years to come."
Eng. Mohammed bin Ali Al Hedfa, Qatari Diar Group chief executive officer, added: "Our aim is to enhance an area in need of a renaissance, with a new mixed use development of which London can be truly proud.
"We are confident that our proposed development will put a reinvigorated South Bank at its rightful place, at the capital's heart."
Shell UK's chairman Graham van't Hoff said: "We're excited about our future here on the South Bank, and look forward to bringing our London-based staff back to one location once the application is approved and construction is complete.
"Shell Centre is our long-term home in London, and we're confident that Canary Wharf Group and Qatari Diar will deliver a project that will benefit both London and the local community.
"It will create prime office and residential space, as well as attracting more people to the South Bank with new shops and restaurants."