Florence Nightingale's Greek pet owl Athena is to be given a new home at the Florence Nightingale Museum at St Thomas' Hospital.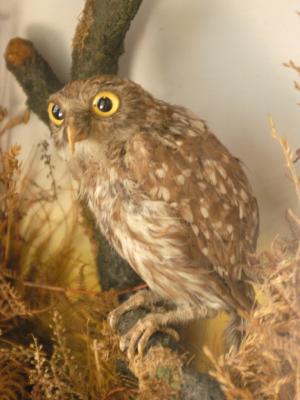 Museum staff are delighted to have obtained the stuffed Little Owl (Athene Noctua) from Florence's family home of Lea Hurst in Derbyshire.
Athena is thought to have been born on 5 June 1850. A baby Little Owl (Athene noctue), she was rescued by Florence Nightingale from some Greek boys at the Parthenon in Athens, where she had fallen from a nest. To be persuaded to enter a cage, she had to be mesmerised, but she became the devoted companion of her mistress, travelling everywhere in her pocket. Athena would sit on her mistress's finger to receive her one daily meal, and curtsy and bow on a table.
Athena and the collection of twenty remarkable Florence Nightingale mementos and portraits have been placed on loan to the museum by AgeCare, the elderly care charity that has owned the items for the last 50 years. These marvellous pieces will be part of the new exhibition opening on 3 November, celebrating the 150th anniversary of the Crimean War and of Florence's arrival at Scutari.
The Museum has until the end of 2004 to raise the funds to buy Athena and the remaining objects, and is asking anyone interested in making a contribution to get in touch.