The hoardings around EDF Energy's work site on Bankside's Sumner Street have been brightened by a new art project by two Danish artists exploring the history of Southwark.

Elsebeth Jørgensen and Pia Rönicke
Tate and EDF Energy commissioned Danish artists Elsebeth Jørgensen and Pia Rönicke to create the montage on the hoardings on the south perimeter of
Tate Modern
.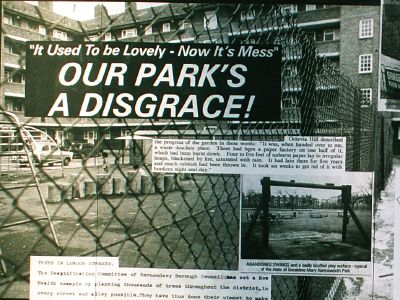 The artists have brought together a fascinating array of material including old photographs, newspaper clippings, documents and maps selected from their research at
Southwark Local History Library
on
Borough High Street
. Jørgensen and Rönicke also invited members of Tate Modern's
Community Film Club
to contribute material which has added to the project's visual narrative about Southwark.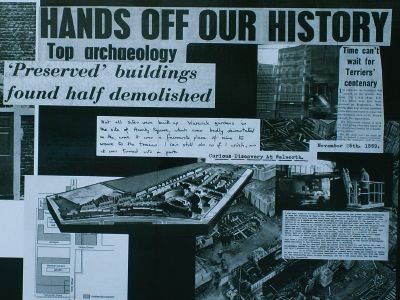 Jørgensen and Rönicke say that their work suggests narratives by triggering the viewer's imagination and highlighting the tenuous link between fact and fiction in our reading of history.
The artists both live and work in Copenhagen. This is the first time they have collaborated on an art project, although they have worked together for several years to establish an artists' space and archive in Copenhagen. They have both recently had solo exhibitions in Copenhagen; Jørgensen at Overgaden Institute of Contemporary Art and Rönicke at Andersen's Contemporary Art. Jørgensen is about to embark on a residency at Deveron Arts working with the community of Huntly, a small town in North East Scotland, and Rönicke will be exhibiting in a group exhibition at the Fruitmarket Gallery in Edinburgh, in At the Same Time Somewhere Else, opening in December.
Unofficial Deposited Records is the second in the a series of commissions for the hoardings funded by EDF Energy whilst they construct a new tunnel linking Bankside with Ludgate Circus. The artwork will be in place for the next twelve months. The
first in the series was a work by Lisa Ruyter
.
"We provide an essential public service and because of this our responsibility to the communities we serve is essential to the way we do business," says Clare Bryd of EDF Energy. "Supporting this unique artwork is part of our determination to be a good neighbour. The artists' community theme fitted in perfectly by enlivening the hoardings through community participation and stimulating local debate in an area undergoing so much change. We hope it will also be well received locally."
EDF Energy has also supported the Bankside Residents' Forum and Bankside Open Spaces Trust.